Paris, é muito mais que uma cidade.. é um labirinto de ruas e ruelas com as suas vivendas graciosas, em cada esquina monumentos imponentes surgem altivos quase sem darmos por isso.. percorrendo as suas galerias, a moda, fulmina em cada passo.. nos seus cafes, patisseries, bristôs ouvem-se gargalhas, conversas animadas realçam ainda mais a serenidade do Sena.. nas suas margens quiosques, livrarias, feiras das mais variadas e diversas quinquilharias, ao fundo pintores dão pinceladas em retractos de mademoisselles que por ali passam...
Ah, Paris!! É tão é fácil perdermo-nos... és a voz e memória do passado, dum passado culto e iluminado (alusão ao
Iluminismo
)..carregada com uma arquitectura marcante, soberba, divina.. a tua alma é misteriosa, a tua essência gloriosa..
Merci, Merci, Merci Paris!!
Paris, much more than a city, a piece of art in every corner:
Getting lost in Paris...
"In a city so well known and loved, where does discovery lie? In the thrill of the new, yes, but also in the surprise of memories waiting at every corner." (
via New York Times)
Glass roof in the department store Galeries Lafayette in Paris via Flickr
Opéra Garnier, Paris via Flickr
Ceiling in the Hotel de Soubise via Flickr
The Oval Reading Room at the Bibliothèque Nationale de France via France Today
The Salon de Musique at the Bibliothèque de l'Arsenal via
France Today
Hall of Mirrors, Château de Versailles via
Pinterest
Winged victory at top of staircase Louvre via Pinterest
Inside the gates of Hotel de Ville via Pinterest
Merry-Go-Round at Sacre Coeur, Montmartre via
Pinterest
Montmartre Walk via time
Souvenir shops at Montmartre to the side of Sacré-Coeur via Bonjour Paris
French Couture:
"Paris Macadam, l'esprit parisien," clothes that reflect "l'énergie des rues de Paris, sa vie culturelle, ses cafés...."
(via France Today)
It was in the XVIIth century that King Louis XIV dreamed of making Paris a city open to all. The capital's last wall was then destroyed to create the Grands Boulevards. The ditches were filled in, the streets were paved and trees were planted all along the new avenues. The Grands Boulevards were an immediate success and Parisians eagerly escaped from their dark, narrow alleyways to take long walks on these superb, vast boulevards.
(via France Hotel Guide)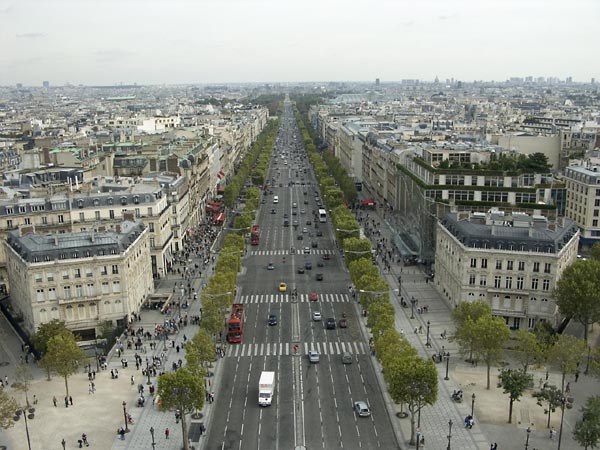 A rainy day is perfect for exploring the many covered Passages and Galeries of Paris, the shopping malls of the 1800's. Paris passages galeries are a hidden aspect of Paris. Passages are pedestrian pass-throughs beneath glass ceilings created to protect shoppers in inclement weather. Shopping today at a passage is an uncommon shopping excursion that combines architecture and pleasures of window shopping.
Galerie Vivienne via Bonjour Paris
Galerie Colbert paris passage couvert via Flickr
Passage du Grand Cerf via Flickr
Parisian Patisseries and Cafe:
Delicious ways to get acquainted with the City of Light.
"There is nothing more French, or more specifically-- Parisian-- than taking a few moments out of your day to sit with an espresso in one of the city's thousands of cafes.
While there are charming and unique spots all over Paris, this list includes some of the classics-- famed artists, writers and musicians frequented many of these traditional Paris cafes, and most have done their best to retain that old-Paris glamour" wrote Colette Davidson (
in Top Traditional Paris Cafes)
Traditional Paris Cabarets:
Ah, the traditional Paris cabaret. A show that has little to do with contemporary Parisian culture and everything to do with nostalgia, a good heaping of kitschy fun and a love for longstanding erotic codes.
Bouquinistes Along the Seine:
Along the Seine, the green metal stalls of the bouquinistes display books, magazines, and postcards for sale.
See also
Romantic, vain, convivial, petty— defining Paris (click here)