Conrad Maldives Rangali Island
Dormir?
Quem é que não adorava adormecer num local como este, uma suite mergulhada no Oceano Índico.. acordar cercado por peixes, plantas aquáticas, por seres flutuantes e cativos.. ah.. se eu tivesse a módica quantia de 11,710 dólares, afinal são uns trocados.. não hesitava em esbanjá-los neste Hotel divinal, esturricava-os num ápice, só para ter o privilégio de dormir numa destas camas!
Sleep? I can't imagine anyone falling a sleep in this place, especially after hearing the price.
This amazing underwater bedroom suite sits 16 feet below sea level of the Indian Ocean, at the Conrad Maldives Rangali Island, surrounded by a coral reef and encased in clear acrylic glass. Unsurprisingly, this watery idyll also comes with an eye-watering price – bookings need to be made at least 14-days in advance, and according to Maldives Traveller it will set you back a cool USD$11,710 per night for the privilege to sleep in this bed.
the world's first all-glass undersea restaurant via conradhotels1
Breathtaking Underwater Bedroom in Maldives via
demilked
Atlantis: Dubai's underwater hotel
Afinal, se calhar gastava antes os meus 11, 170 dólares aqui.. hum, que acham?!
Nesta palmeira artificial de 1,8 milhões de dólares, podermos adormecer debaixo do mar (nada de novo), escorregar e aterrar 27 metros depois num tanque de tubarões, desancar umas quantas braçadas e ir dançar para juntos golfinhos, que sempre são mais amigáveis!
A boutique hotel it ain't.
The 1,539-room, $1.8 billion megaplex is situated on the The Palm, an artficial sand island shaped like a palm tree.


Poseidon suite:
The hotel's Lost Chambers suites provide views from both the bedroom and the bathroom windows into a lagoon filled with 65,000 marine animals. So you can relax on your bed and watch giant manta rays float slowly by.
Atlantis: Underwater Hotel in Dubai via Pinterest
The 'Lost' Chambers:
Apparently the Lost Chambers at Atlantis give 'underwater insights into how the citizens of Atlantis may have lived and worked'. If they had actually existed, that is.
The 'Lost' Chambers via Flickr
The 'Lost' Chambers
via flickr
The Leap of Faith waterslide:


Atlantis' waterpark is known as Aquaventure, and features high-tech waterslides built to look like ancient monuments. The highest of them, the Leap of Faith, is over 27 metres high.
The Leap of Faith waterslide via Flickr
The Leap of Faith waterslide via travel
Shark-infested lagoon (er, tank)
via Flickr
Shark-infested lagoon:
After being catapaulted down the Leap of Faith, Aquaventurers bob in inner tubes through a 'shark-infested lagoon'. Fortunately the sharks are safely on the other side of a pane of glass.
Shark-infested lagoon (er, tank)
via Flickr
Citta del Mare hotel in Sicily
No hotel
Citta del Mare
na Sicília, podemos escorregar mesmo em cheio no Mediterrâneo.. ganda splash!!
At the Citta del Mare hotel in Sicily, you can slide right into the Mediterranean Sea. Wouldn't you love to be splashing down there right now?
Flight Deck on California Great America
Sentados sobre trilhas de aço, aventuramo-nos numa experiência gritante esvoaçando sob água.. uma queda vertical de 9 andares, loops de dar a volta à cabeça, gravidade zero, e tudo isto enquanto somos sacudidos a alta velocidade!! Flight Deck leva-nos ao literalmente ao delírio!
Seated on trains suspended from the overhead inverted steel track, Flight Deck takes you on a ride designed to resemble a fighter jet. Here you'll experience a nine-story drop into a vertical loop, a weightless zero-G roll over the entrance and a thrilling finale consisting of a corkscrew inversion into high-speed helix while flying over a body of water at California's Great America.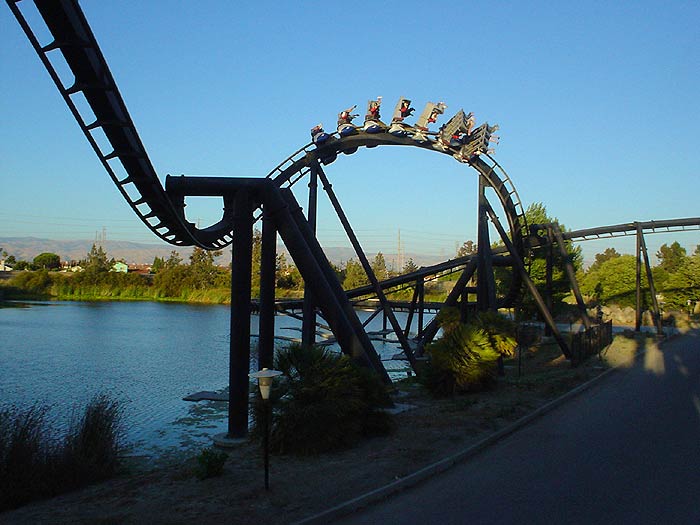 Aquatica Water Park at SeaWorld Orlando
The Dolphin Plunge, Sea World, Orlando, Florida porque é não temos cá disto??
Guests who don't want to board any of the rides can marvel at the dolphins in an underwater viewing area. Commerson's dolphins often swim upside down. This dolphin is swimming past the clear underwater tube through which riders on the Dolphin Plunge body slide zoom.
The Golden Nugget in Downtown Las Vegas
Golden Nugget's newest attraction featuring exotic marine life.
The notorious Golden Nugget pool is now The Tank – a $30 million complex complete with a shark tank, a 3-story waterslide and thirteen private cabanas. Get up close with some of the oceans' sleekest and deadliest beings. Or climb 30 feet in the air, lean back and let gravity show you an exciting ride through The Tank in Golden Nugget's secured waterslide. This experience is unparalleled. After swimming with the sea creatures, dry off and enjoy a drink at H2O Bar.
Nurai - Private Residential Estate, Abu Dhabi
"There's a new planet in the solar system and it's called Luxury. Actually, it is here on earth, on a little-known island called Nurai, located northeast of Abu Dhabi city. The 130,000-square-meter island is about to be transformed into an achingly glamorous and luxurious resort and exclusive private residential estate, comprised of one boutique luxury hotel resort with 60 suites, 31 beachfront estates and 36 water villas."
wrote
Lisa Evans for
The cool hunter
Huvafen Fushi - Maldives
"If celebrity patrons are an indicator of a hotel's popularity, the Maldives super-lux Huvafen Fushi is about as hot as it gets. George Clooney popped in for lunch last month, Kate Moss partied in her Ocean Villa, Tom Cruise and Katie Holmes booked in a massage during their honeymoon, Alexander McQueen had left when I arrived and when I left the island, Stefano Gabbana of Dolce & Gabbana and John Galliano were set to arrive (separately)."
says Billy Tikos in
The cool hunter